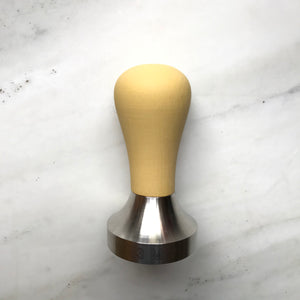 Sweet Caroline
Sale price Price $39.00 Regular price
This Tamper has been produced to exacting standards using high quality materials and is suitable for the professional barista or home enthusiast. Every element has been carefully considered from the functional design to the environmentally conscious plastic free packaging solution. This Tamper is available in a range of sizes and engraving options including customisation - see below for details.
Shipping
Free UK Mainland shipping available on all orders
Free Continental European shipping available on all orders above £75.00
Free Global Shipping available on all orders above £150.00
Specifications
53.0mm: Tamper Mass 495g +/- 10g

58.0mm: Tamper Mass 550g +/- 10g
58.4mm: Tamper Mass 555g +/- 10g
Handle: Painted Beech
Flat Base: Stainless Steel Grade 316.

Stainless Steel Base Diameter +/- 0.05mm

Plastic Free Packaging.
Tamper Height: 94.5MM
Handle Width: 44MM 
Designed and Manufactured 100% in the United Kingdom.
.
Product Care


Always use a soft, non abrasive cloth or sponge to clean. It is safe to use warm water mixed with washing up liquid for an indepth clean - be sure to use a non-abrasive cloth or sponge and dry thoroughly before reuse.
What's in the box?
One: Stainless Steel Base to your specified size
One: Yellow painted 'Sweet Caroline' Wooden Handle
One: 'Coffee Sack' Void fill in the form of a jute drawstring bag
Zero: Plastic
Please note surface scratches to the product are completely normal and will not affect the performance of the tamper in any discernible way.
We hope you are delighted with this product. If you are dissatisfied please contact us by emailing info@ninthphase.co.uk with your order number, query and images if applicable and we will take the appropriate remedial action - this does not affect your statutory rights.
Please see link in footer for our Refund, Returns and Cancellation policy.